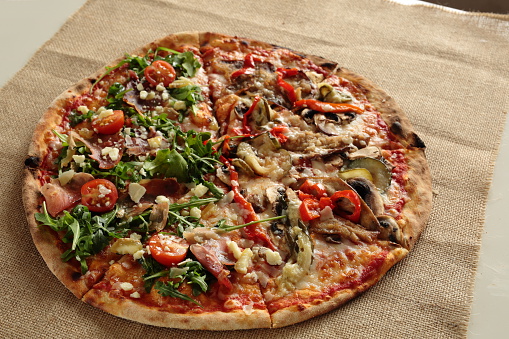 Ingredients
1 Pound whole wheat bread dough (our favorite is Trader Joe's)
2 medium zucchini and/or yellow summer squash, sliced
1 medium red, green or yellow sweet pepper, chopped
1 tablespoon olive oil or cooking oil
1 1/2 cups sliced fresh mushrooms
2 green onions, sliced (1/4 cup)
2 plum tomatoes, sliced
1 8-ounce can pizza sauce
1/2 cup coarsely chopped pitted green and/or black olives
1 cup shredded mozzarella, provolone or Monterey Jack cheese (4 ounces)
1/4 cup grated Parmesan or Romano cheese
Directions
 

Preheat oven to 425 degrees F.
For dough: Place bread dough on lightly floured surface and let rest 10 minutes. Roll into a 12-inch round on a lightly floured surface, building up edges slightly. (Be careful not to stretch too far; however, if a hole appears, you can pinch it back together with your fingers.) Transfer pizza circle to a greased baking sheet. Using the tines of a fork, prick dough over entire surface. Bake about 8 minutes or until set but not browned.
Meanwhile, for veggies in a large skillet, cook and stir zucchini or squash and sweet pepper in hot oil for 3 minutes or until crisp-tender. Add mushrooms and onions. Cook and stir 2 minutes more or until just tender. Remove from heat. Stir in tomatoes.
Spread pizza sauce on hot crust to within 1 inch of edge. Using a slotted spoon, spoon zucchini mixture over sauce. Top with olives. Sprinkle with mozzarella and Parmesan.
Bake for 15 minutes or until crust is golden brown and cheese is melted. Makes one 12-inch pizza, 6 servings.

 

This recipe first appeared in the June 2016 edition of the HealthPerks newsletter.