Note: Freekeh is a young green wheat that has been toasted and cracked. An Ancient grain derived from North African cuisines and popular in the eastern Mediterranean Basin. Compared to many whole grains, it cooks up quickly (20 minutes), is high in protein, double the fiber of quinoa and a low glycemic index.
Makes 4 side servings or 2 main-dish sized servings.
Skip
Ingredients: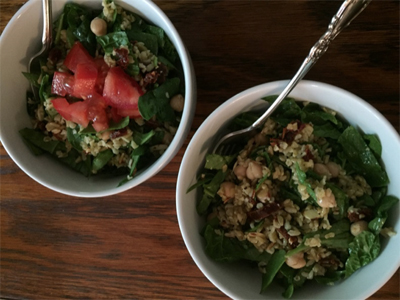 Salad:
1 cup Freekeh, rinsed in a fine-mesh colander
1/3 cup oil-packed sun-dried tomatoes, drained and chopped
2 cups roughly chopped fresh spinach or arugula
1/3 cup sliced almonds
1 cup reduced sodium garbanzo beans (1/2 of a 14 ounce can, drained and rinsed)
Lemon Dressing:
2 Tablespoons olive oil
2 Tablespoons lemon juice
2 cloves garlic, pressed or minced
1 teaspoon Dijon mustard
Pinch of red pepper flakes
Freshly ground black pepper, to taste
Instructions:
To cook the Freekeh: Combine the rinsed Freekeh and 2 ½ cups water in a medium saucepan. Bring the mixture to a boil over medium-high heat, then decrease the heat to maintain a gentle simmer. Cook until the Freekeh has absorbed all of the water, about 15-20 minutes. Remove from heat.
Meanwhile, prepare the dressing: Whisk together the olive oil, lemon juice, garlic, mustard, red pepper flakes and pepper.
To toast the almonds: Place almonds in a small frying pan over medium heat. Stir or shake almonds frequently just until they are golden and fragrant. Beware as these can burn quickly. Transfer almonds to a bowl to cool.
Once the Freekeh is done cooking, fluff it with a fork and transfer it to your serving bowl. Drizzle all of the dressing on top and toss to combine. Add the chopped sun-dried tomatoes and garbanzo beans. Wait a few more minutes to add the spinach so it does not wilt completely. Toss again, season to taste with additional pepper, if necessary and serve immediately.
Variations:
Substitute quinoa to make Gluten free.
Substitute black beans for garbanzos.
Top with fresh chopped tomato
Charis W. Spielman, MPH, RD, CSO, CNSC
Certified Specialist Oncology Nutrition
Certified Nutrition Support Clinician