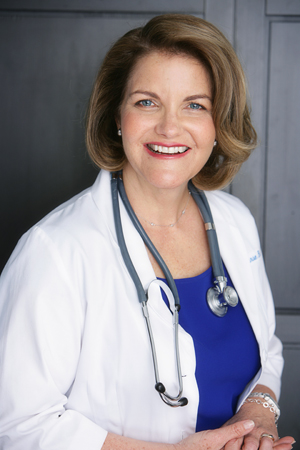 Whenever I'm rushing through the hospital to see a patient, one of the things I can always count on is seeing volunteers in their pink or red uniforms helping people with whatever they need. It's kind of magical, when you think about how these wonderful people put others first.
The volunteers always make me smile. They're always happy and helpful, no matter who they're helping. These are the selfless people who put others first and help all of us at the hospital care for others. I caught up with one volunteer, Marty the other day and interviewed him.
1. What inspired you to volunteer with El Camino Hospital?
I never thought about working in a hospital until I spent a lot of time with my mom after her stroke when I would visit her in the rehab facility. I was in the Air Force, then worked in the electronics industry before I retired. Then, after seeing people be so kind to my mom, and how they worked carefully to help her learn how to use a wheelchair and then a walker, I was hooked. I saw how beneficial the physical therapy was in helping her regain her life back and I knew I wanted to do something to help others.
2. What kind of things are you doing as a volunteer?
Just the other day, a pregnant lady in labor came in and I got the wheelchair for her, but she said that she wanted to walk. I turned around and her husband was parking the car. It was just the 2 of us. I had the wheelchair ready in case she needed it and I called labor and delivery to tell them we were on our way and then I walked with her down the long hallway, or as I call it the "Stork's Runway."
This happens a lot. We're there for people, no matter what they need. We have the nursing and medical staff alerted and we get people where they need to go. No matter what, you want to make sure that everyone gets what they need.
3. That sounds exciting. Is every day like that?
Everyday is different and that's what I like. Sometimes they need me at the front desk, or I'm an escort, or to work in pre-operative registration. I'm kind of a jack-of-all trades. I like being able to use all of my problem solving skills to try to help all kinds of people get the help they need quickly. And I'm just one of many great people who volunteer here in Los Gatos and at the Mountain View Campus for El Camino Hospital. What's nice is as a volunteer, there's so much you can help with, that no matter what your skills, how much time you might have or what you like to do, we can use the help.
4. What do you like about your work as a volunteer at the hospital?
There's a lot that's great. From getting to meet all the different kinds of people from all over the hospital, the staff, the visitors, the patients, there's so much going on all the time. In the outpatient surgery registration area, it's very rewarding because we can really make a difference at a time when people really need lots of caring from the moment they walk in the door to when we escort them out. People need to know that other people care about them and we'll do everything we can to help them as they have surgery. Sometimes, they haven't done any of their pre-op registrations, they may be scared, their families may or may not be with them. No matter what, it doesn't matter, they are there and they need our help and it's very rewarding and fulfilling to be able to help them through that.
5. Can anyone volunteer?
It's funny you asked, we just trained a new bunch of volunteers the other day. We have people who have been volunteering for 40 years and lots of newbies. We also have people who have taken a break from their jobs, they haven't retired and still want to stay active, maybe they're thinking about the next phase in their lives and they bring lots of new skills to our hospitals.
I also see a big change with the high school and college students who volunteer. They are so much more engaged in the process. It's not just checking off the box that they did their volunteer hours, they really are great kids who are kind and compassionate. Some want to be nurses and doctors and some of us older volunteers can see that they'll be great at it when they get there. It's just nice to see.
6. Would you recommend volunteering at your local hospital?
I love volunteering here. My wife even calls me Mr. Hospital or Dr. Marty! I feel like I know everyone and it feels like a community. After I retired, I didn't have a lot of hobbies, and volunteering was a way for me to be back in the real world interacting with people, helping out and giving back. Volunteering also gives you lots of flexibility and new friends. It's really a team effort here and it's all about helping the patients and their families have the best possible experience which I really believe in. I saw how important that was for my mom and I want to help others have that too. It's very fulfilling and I'd highly recommend it.
7. Is there anything else that you'd like to add?
I'm not any different than all the other volunteers here at El Camino Hospital. We love what we do and we're here to help you, no matter what! 

Learn more about volunteering at El Camino Hospital. 
This story first appeared in the December 2014 edition of the HealthPerks newsletter.