Skip
Ingredients: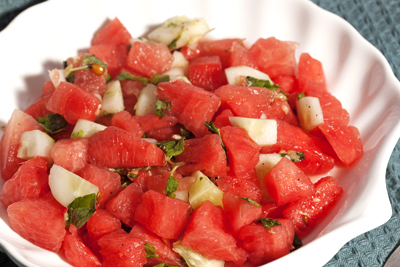 3 cups seedless watermelon, cubed (about one mini-melon)
1.5 cups seedless cucumber, cubed
2 Tbsp. fresh mint leaves, sliced thin
¼ cup fresh lime juice (about 2 limes)—Use fresh, not bottled, lime juice for best flavor
Zest from two limes (use a small grater or zester)
1 Tbsp. Extra Virgin Olive Oil
Pinch of sea salt
Pinch of black pepper
Directions:
Cut the rind off the watermelon and cut into medium-sized cubes about ½ inch
Peel the cucumber (if you prefer). Slice lengthwise and using a spoon, scoop out the seeds, then cut into cubes.
To slice the mint: Stack leaves on top of each other, roll them up lengthwise into a bundle and thinly slice.
Combine these 3 foods in a large bowl.
Then, in a small bowl, mix the lime juice, lime zest, olive oil, salt and pepper.
Pour dressing over the water melon and cucumber and stir to toss.
Best if made a few hours in advance for enhanced flavor.
Store leftover salad up to 2 days in refrigerator.