Breast Feeding & Support At Home
Congratulations and welcome home! You'll need support and care as you start life with your new baby. El Camino Health is here for both of you.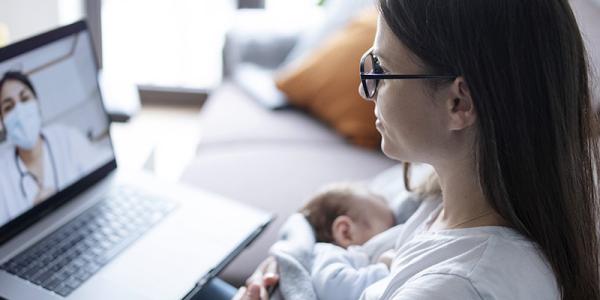 請點擊此轉換成中文
Breastfeeding Support
If you'd like one-on-one assistance once you leave the hospital, a lactation consultant can help. Our lactation consultants are available for both online virtual visits and in-person outpatient visits. For more details, fee information and to schedule an appointment, call 650-988-8290 (Mountain View) or 408-871-7479 (Los Gatos).
Both of our hospitals champion breastfeeding and our Los Gatos campus is a designated Baby-Friendly Hospital. This means we provide the highest standard of support possible for breastfeeding mothers and babies.
You can purchase nursing bras, pads and other breastfeeding supplies at our maternity boutiques at both our Mountain View and Los Gatos campuses. You can also rent breastfeeding equipment including:
Baby scales. We offer free use of scales while you're in the hospital to help you calculate your baby's breast milk intake. Scales are also available to rent for home use.
Breast pumps. Rent hospital-grade, fully automatic cycling electric breast pumps by Medela and Ameda by the week or month. All pumps can pump breasts one at a time or together.
Breastfeeding Online Support Group
Meet online with an International Board Certified Lactation Consultant (IBCLC) and other breastfeeding mothers for support related to breastfeeding, latching & soreness, low milk supply, newborn fussiness, sleep & weight gain, pumping and more. Recommended for mothers of newborns through 6 months of age. Click here to register.
Online Lactation Consulting
Our Internationally Board-Certified Lactation Consultants (IBCLC) are available to help support your breastfeeding journey from the comfort and safety of your home. Online video consultations are convenient and can provide timely assistance for the breastfeeding challenges you may be experiencing.
To schedule an appointment, click here on your computer or download the El Camino Health Care Now app on Google Play or the Apple App Store.
Postpartum Checklist
Creating a postpartum plan can help you anticipate needs and determine how to best fill them. Knowing what to do or who to call can help ease the stress of caring for a new baby.
Here are some things to consider.
Health insurance coverage: When and how do you add your new baby to your coverage?
Medications: Do you have any prescription or over-the-counter medication you might need during the first few days or weeks after you get home?
Appointments: Have you scheduled postpartum appointments for yourself or newborn checkups for your baby? What questions would you like to ask?
Community support: Do you need to visit the WIC Office, local food banks or pantries? Are there other services you or your baby might need?
Your mental health: Have you talked to your doctor or other healthcare provider about your risk for perinatal mood disorders such as postpartum depression? If you already have a mental health condition (before or during pregnancy), is it being treated safely and effectively?
Family and household: Do you have other children or pets that need care? Can someone help with cleaning and housework?
Employment: When does your maternity leave from work start and how long can you take?
Nutrition: Have you talked to your doctor or other healthcare provider about nutrition after pregnancy and when breastfeeding? Will you have help preparing meals and healthy snacks? Do you have plenty of water bottles available to help you stay hydrated?
Infant feeding: Do you need help breastfeeding from our lactation consultants? Do you have formula on hand in case you need it quickly?
Sleep and rest: Is there someone who can help with daily, weekly or overnight support if needed? Who could support you best? What hygiene and safety practices need to be in place?
Self-care: Do you have a book, puzzles or movies to help you relax so you're not staring at your phone when you get a little downtime? Are there apps that can help you with mindfulness or relaxation?
Postpartum recovery: Do you have supplies such as mesh panties, adult disposable underwear, witch hazel pads and other items for comfort as you heal?
Education and Health Coaching
Lifestyle Medicine, Coaching and Classes
When you're pregnant or breastfeeding, everything you taste, see, touch, hear and smell may affect your child. Our lifestyle medicine program can help your family establish healthy new norms and create the best possible environment for your new and growing baby. Find out more about AIM to New Beginnings. To register, call 650-940-7242.
Maternal Mental Health Support
Life with a baby brings changes and challenges. It can be easy to dismiss symptoms such as sadness, anxiety and exhaustion as "normal," but toughing it out may not be the best choice for you or your baby. El Camino Health's Maternal Outreach Mood Services (MOMS) Program offers education, counseling and evaluation for expectant and new mothers. A collaborative effort between maternal health services and the Scrivner Center for Mental Health & Addiction Services, the program is overseen by a psychiatrist who specializes in maternal mood disorders. Our experienced clinical nurse specialists, marriage and family therapists, and psychiatrists all have expertise in pregnancy and postpartum mood problems.
When to Seek Help
The symptoms of perinatal and postpartum depression and anxiety are similar to the signs of other clinical depression and anxiety disorders, but they can also include:
Trouble sleeping
Feeling alone and isolated, or feeling numb or disconnected from your baby
Having troubling or negative thoughts about your baby or worrying that you'll hurt your baby
Feeling concerned that you can't be a good mother or ashamed that you're unable to care for your baby
Pelvic Health
The pelvic floor refers to the muscles, ligaments, connective tissues and nerves that support and help pelvic organs function. Pregnancy and childbirth can put great strain on the pelvic floor, causing a variety of symptoms. Pelvic floor therapy can be your road to recovery!  Some postpartum pelvic conditions we treat:
Abdominal muscle separation and/or weakness
Painful C-section or perineal scar
Bowel/bladder leakage
Painful intercourse
Blocked milk ducts
How we can help:
Customized evaluation and treatment
Manual therapy: soft tissue massage, myofascial trigger point release for tight muscles
Therapeutic exercises to strengthen weak muscles or lengthen tight ones
Biofeedback training to improve awareness of pelvic floor muscles for strengthening, coordination, and relaxation techniques
Education on posture and body mechanics training, bladder and bowel training, and diet
Our women's pelvic health team can help treat or prevent symptoms of pelvic floor disorders.