Getting Ready To Go To The Hospital
As your due date approaches, it's time to pack your bags and get ready for your new baby's arrival.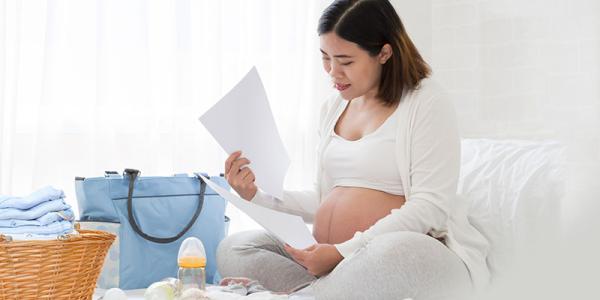 請點擊此轉換成中文
Birth Preferences
We aim to shape your birth experience according to your preferences, while keeping you and your baby safe and as comfortable as possible. Our Birth Preference sheet is similar to a birth plan and includes a list of your choices and wishes for during and after delivery. You'll consider whether you'd like pain medication, how you plan to feed your baby, who should be in the room with you and other preferences. Please print and present these birth preferences to your delivery team once you are admitted to the hospital.
Suggested Packing List
A few weeks before your due date, pack a suitcase with a few items to make your hospital stay more comfortable.
Here's a checklist. (Click to expand)
A favorite pillow and blanket for you and your partner – Additional bedding and towels will be provided
Slippers
A robe that is easy to take on and off
A nursing bra
A refillable water bottle with straw for you and your partner
Personal care items, including toothbrush, toothpaste, shampoo, conditioner, hairbrush, hair ties, moisturizer, deodorant and lip balm
A comfortable going-home outfit to wear when you leave the hospital – front-opening shirts help with breastfeeding
Electronics, such as phone and charger
Nonperishable snacks for you and your partner, if you have favorites you'd like to have on hand
Change of clothes and toiletries for your partner
Identification and insurance cards
Birth Preference sheet
Note: The hospital provides all basic necessities such as postpartum care products, gowns that support breastfeeding, diapers, baby care products and breast pumps, as well as T-shirts and blankets for baby.
For Baby's Trip Home
Note: It is not necessary to pack infant formula for your Maternity stay. In the interest of patient safety, infants are allowed to consume formula that is provided by El Camino Hospital exclusively. The integrity of formula that is brought in by patient families cannot be accurately verified. We appreciate your understanding in this matter.
Be sure to pack a few items for the ride home from the hospital, including:

A new infant car seat (required by California law)
A baby blanket for going home
A going-home outfit for baby
COVID-19 FAQ
Q: How can I access tours and classes during the COVID-19 pandemic?
A: We recognize the importance of classes, tours, and education to our patients, especially during this time. We are offering live classes via Zoom including Childbirth Express, Baby Care, Infant Safety, and Breastfeeding Basics. Please note that for the safety of our patients we are not offering in-person tours at this time, but virtual tours of our birth centers are available.
Q: Is it safe to deliver a baby the hospital during the COVID-19 pandemic?
A: Our hospitals are the safest place to have your baby. We have all the medical services to support you and your baby's needs, including highly trained staff and infectious disease experts.
We take all reasonable precautions to ensure every mom and baby can have a safe and high-quality delivery.
Both of our campuses have health screeners stationed at all entrances who ensure everyone who enters receives a mask. All healthcare providers undergo health screening each day. Our Mountain View campus has a separate Women's Hospital and parking garage. Our Los Gatos campus has a separate, secure wing dedicated to mother-baby health.
Q: Who can be with me during labor and delivery?
A: We understand this is a special time for you and your family. For the safety of our patients and staff, we must limit visitors to two (2) support persons at a time (not including partner).
No sibling(s) under 14 years old allowed. Sibling(s) 14-17 years old permitted only if they have non-patient adult supervision and only during visiting hours. Please note that only one person, typically your partner, will be allowed to stay overnight. Click here to see our most current visitor's guidelines.
Please ensure your birth partner/support person's is a healthy adult.
Maternity Unit will allow sibling(s) who are minors only if they have adult supervision in postpartum unit.
Visiting a COVID-19 positive patient: Certain restrictions and guidelines apply. Please see COVID-19 Positive Visitor Guidelines for details.
To ensure the safety of patients, visitors, and staff during the COVID-19 pandemic, all 
Doulas will follow the guidelines below that reflect many of the same requirements of our 
staff and visitors.
Doulas will:
Only be allowed to accompany patient during Labor and Delivery. Your doula is considered part of your care team, so they will not take the place of your designated support person.
Not be able to attend labor and delivery of patients who are COVID-19 positive.
Wear appropriate PPE per hospital guidelines.
Q: Will I need to be COVID-19 tested prior to my C-section delivery or natural birth delivery?
A: If you are scheduled for a C-section delivery, you will be contacted by an El Camino Health scheduler to schedule a COVID-19 test three days prior to your procedure. This also applies if you have already been vaccinated.
If you are not scheduled for a C-section delivery, you will not be required to take a COVID-19 test ahead of admission.
Q: Will I be able to have lactation support?
A: Our experienced nurses and lactation consultants continue to be available to support your breastfeeding needs.
Q: Are there changes to how labor is managed due to COVID-19?
A: Pain medications and epidurals continue to be readily available. Also, walking during labor is limited to one patient/partner at a time in the hall. Both you and your partner/support person will need to wear a mask. Your delivery team will wear gowns, gloves, masks and eye protection to protect all present.
Q: What if I test positive for COVID-19?
A: Our Mother-Baby services are ready to support you and your baby. We have specially prepared isolation rooms and services to provide excellent care to moms with respiratory symptoms. Make sure you notify your obstetrics provider as soon as you test positive for COVID-19 to ensure you get the right monitoring and care.
Q: Will I be able to stay in the same room as my baby if I have COVID-19?
A: It is uncommon for newborn babies born to COVID-19 positive mothers to become infected. The risk of a newborn becoming infected is low if a mother takes preventative steps including wearing a mask and washing her hands regularly. Because of this, and a very low risk of severe illness in newborns, the American Academy of Pediatrics (AAP) recommends mother and baby room-in together.
Our provider and staff team will work with the mother and support person to determine how to provide a safe environment for newborn care within the mother's room.
Q: Will my baby be tested for COVID-19 if I have a positive COVID-19 test?
A: The American Academy of Pediatrics recommends that babies born to COVID-19 positive mothers are tested 24 hours after birth, followed by another test at 48 hours (if your baby is still at the hospital). Your pediatrician will guide your baby's care.