Support During Your Pregnancy
Being pregnant is an exciting — and sometimes stressful — time. El Camino Health guides and supports you throughout your pregnancy. Our expert prenatal care helps ensure the best possible start for you and your baby.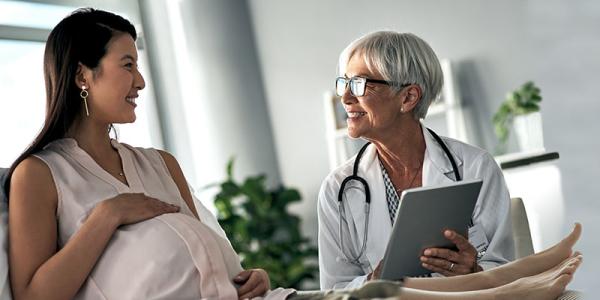 請點擊此轉換成中文
Find an Obstetrician or Certified Nurse-Midwife
Your obstetrician (OB/GYN) or certified nurse-midwife leads your care with your needs and preferences in mind. It's important to find someone with expert training and experience—and who you feel comfortable and at ease with.  
Find your OB/GYN or certified nurse midwife.
El Camino Health – OB Concierge Chat
To begin an El Camino OB Concierge Chat: Text "Baby" to 47225.
Join a chat personalized to your pregnancy for step-by-step information, and resources you and your family need for the big day. And get more support with our after-baby program, too. Get to know our process, and the resources we have for you with our automated chat.
Use the chat to:
Sign Up for a Class
Connect to Your Care Team
Register for a Virtual Maternity Tour
Get Resources & Support
Access MyCare App
Babyscripts™ Mobile App
El Camino Health provides all our future mothers access to the Babyscripts mobile app. With Babyscripts at your fingertips, you'll get:
A feed of daily customized content, from conception to your baby's first birthday
El Camino Health resources
Babyscripts pregnancy, birth, newborn and lactation educational information
Health monitoring tools
El Camino Health care team contact information
To access the Babyscripts App:
Go to the app store on your device (iPhone App Store or Google Play Store).
Search for Babyscripts myJourney, then download and open the app.
Enter this group passcode under New User: ELCAMINOBABY
Click "Sign Up" to register, and start exploring your personalized timeline, resources and more!
Questions? Contact Babyscripts Support at support@babyscripts.com or call 844-692-2297. For more information, check out our help articles.
Lifestyle Medicine Coaching and Classes
When you're pregnant or breastfeeding, everything you taste, see, touch, hear and smell may affect your child. Our lifestyle medicine program, AIM to New Beginnings, can help you and your family establish healthy new norms and create the best possible environment for your new and growing baby.
A personal health coach will help you explore simple and workable solutions to create a healthy pregnancy, enhance your baby's growth and development, reduce health risks, and create a strong and lasting bond with your baby. The health coach works with couples to identify challenges in adopting important lifestyle habits that we call MEDS, or Meditation, Exercise, Diet and Sleep. We'll help design a practical action plan so that your family can simply and comfortably weave these healthy habits into an easy daily routine.
Find out more about AIM to New Beginnings
Extra Support for Higher-Risk Pregnancies
If you've been told your pregnancy is high-risk, take heart. El Camino Health's, maternal-fetal medicine specialists are part of your team — along with a board-certified OB/GYN, neonatologists, maternity nurses, sonographers and other specialized clinicians. Together this team will provide you with 24/7 care and guidance to help you have a safe and successful pregnancy, birth and beyond.
Perinatal Diagnostic Center
An early step in many higher-risk pregnancies is prenatal testing. Your doctor or midwife will talk to you about tests they recommend, what to expect from the test(s), and how to interpret the results.
The El Camino Health/Stanford Children's Health Perinatal Diagnostic Center, located on our Mountain View campus, offers a wide range of services and support — including counseling and consultations.
The team of maternal-fetal medicine specialists (high-risk obstetricians), sonographers (ultrasound technologists) and genetic counselors provide a full evaluation to assess your baby's health and to screen for and diagnose any abnormalities.
Genetic Counseling
Understanding your baby's genetic profile can help you make informed choices and prepare for your baby's arrival. Our genetic counselors interpret your family and medical history to determine the chance of a genetic disease affecting your baby. Your counselor will help you and your family members understand genetic conditions, testing, management and prevention. In some cases, your counselor may refer you for further testing.
Mental Health Support
When you're pregnant, it may seem like everything you do should be for the baby. The truth is your own health and well-being matter now more than ever. If you feel like you're struggling, let your doctor know right away. Many perinatal mood disorders can begin during pregnancy, as your body and life begin to change rapidly. All our team members are specially trained and experienced in recognizing the signs of perinatal mood disorders, and we can help.
Our Maternal Outreach Mood Services (MOMS) program is designed to help restore the joy that motherhood can bring. The program's team includes clinical nurse specialists, marriage and family therapists, and psychiatrists who have expertise in pregnancy and postpartum mood problems.