Hypertension (high blood pressure) and diabetes are common chronic diseases and both are risk factors for coronary artery disease.
This article first appeared in the medical column "Ask-the-Doc" in the World Journal.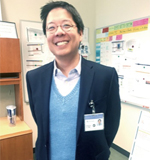 Family practice physician, Dr. Edward Yu stresses the importance of good medication management in the treatment of hypertension and other chronic disorders.
Many people have both diseases. While there is no causational relationship between hypertension and diabetes, the two are closely related. For example, the risk of complications is noticeably higher when both diseases are present. Additionally, the risk of hypertension in diabetic patients is twice that of non-diabetic patients. "Often times, people neglect the importance of blood pressure control in diabetic patients," said Dr. Edward Yu, a family medicine physician.
While most people understand the risk factors for hypertension and diabetes individually, most do not recognize the added risk of having both diseases. With diabetes alone, there is increased risk for coronary artery disease, stroke, kidney, and vision damage. However, if someone has both diabetes and hypertension, there is added risk of damage to eyes and kidneys.
Dr. Yu noted that the mechanisms by which diabetes and hypertension damage the body are different. For instance, the way in which hypertension injures kidney cells differs from that of diabetes. With the two diseases combined, damage to the kidneys is compounded. "The point is not to tease out the differences and determine how to treat diabetes or hypertension individually," notes Dr. Yu. "One must deal with both concurrently to reduce the burden of hypertension and diabetes."
Dr. Yu went on to say that patients with diabetes also frequently suffer from hyperlipidemia (high cholesterol), resulting in a trio of metabolic diseases— high cholesterol, high blood pressure, and diabetes—where each condition requires separate medication. "Blood pressure control is of most importance if one has all three diseases, because hypertension is extremely dangerous and can lead to increased risk of stroke and coronary artery disease," stressed Dr. Yu. "Elevated blood sugar, blood pressure, and blood cholesterol all damage internal organs in different ways, but good blood pressure control can help reduce the negative impacts of diabetes and hyperlipidemia."
Many people believe that medications hurt the liver and kidneys, or believe that because 
they are already taking blood pressure medication, they shouldn't also be taking medication for diabetes. "Medication for hypertension and diabetes are two separate things; both medications should be taken over the long term," Dr. Yu said. If there is concern over safety or side effects, patients should work closely with their physicians to find the most suitable combination. "Sometimes you just have to try it. It's like buying Christmas presents. If you don't like it, you can return it."
Dr. Yu also noted that hypertension can damage kidney cells and lead to kidney function deterioration. Therefore, patients should pay attention to medications for hypertension and diabetes when they have kidney injury. Some medications warrant extra caution. Physicians and patients should also pay close attention to side effects and responses to medications.
Doctor's Profile: Dr. Edward M. Yu is a family practice specialist. He was born in Seattle and moved to Hong Kong with his father at the age of six. He holds a bachelor's degree in Genetics from UC Davis, and medical degree from UCLA. He completed his internship and family medicine residency at UCLA. He joined El Camino Health in 1997. Languages spoken: Mandarin Chinese, Cantonese, English.
This article first appeared in the World Journal and the Fall 2019 issue of Chinese Health Initiative Wellness eNewsletter.