Chinese Health Initiative
The Chinese Health Initiative addresses the unique health needs of the Chinese community and supports El Camino Health in promoting culturally sensitive care.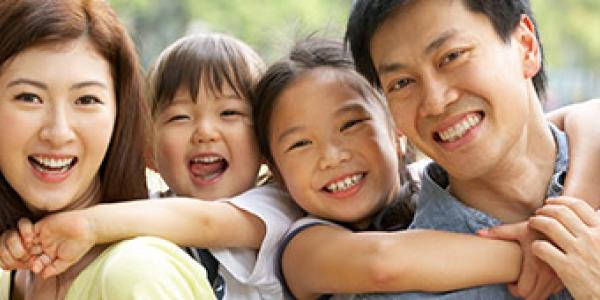 請點擊此轉換成中文
Our Chinese Heath Initiative (CHI) enhances the health and well-being of our Chinese community members. Through partnership with the hospital and other organizations, we offer specialty programs that promote awareness and prevention of health conditions that commonly affect the Chinese population.
Our Services
We're the first hospital in the region with a program designed specifically to support the Chinese community. Our board of advisors is comprised of community and business leaders and doctors who guide us in meeting the distinct needs of Chinese people. CHI is a bridge between the hospital clinical team and the community. We strive to connect you with the care, information and resources you need to support your health and well-being.
We offer:
Chinese-Speaking Physician Referral Network
CHI launched the Chinese-Speaking Physician Referral Network to help Chinese community members access doctors who speak their language and deliver culturally sensitive care. There are over 100 physicians, including both primary care doctors and specialists, in the network. Any doctor who is associated with El Camino Hospital and speaks at least one Chinese dialect is invited to join.
Advocates for Culturally Sensitive Care
Another role of CHI is to support El Camino Hospital in promoting culturally sensitive care. We serve as a resource to provide clinical staff with insight to the Chinese cultural perspective. Learn about our Patient Ambassador Program and other services designed to help give you a more comfortable and culturally appropriate patient experience.
A Decade of Care in our Community
Since 2010, the Chinese Health Initiative has been addressing the unique health needs of the Chinese community while marking notable milestones each year.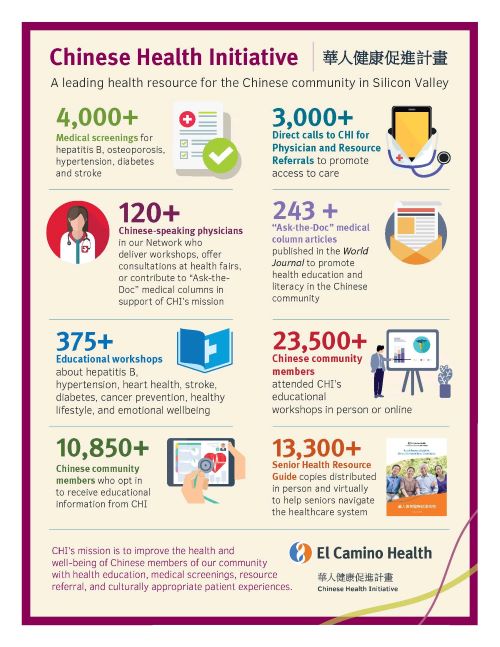 Chinese Health Initiative Partners
The following organizations are valued CHI partners:
Alzheimer's Association
American Heart Association
Asian American Community Involvement
Avenidas Chinese Community Center
Buddhist Tzu Chi Foundation
Chinese American Coalition for Compassionate Care
Chinese American Semiconductor Professional Association
Chinese Church in Christ San Jose
Community Services Agency
Dharma Drum Mountain San Francisco Bay Area Center
Heart of Hope Asian American Hospice Care
Home of Christ Church in Cupertino
Libraries: Cupertino, Los Altos, Mountain View, Saratoga, Sunnyvale
Mandarin Language & Cultural Center
Monte Vista Terrace Apartments senior housing 
New Hope Chinese Cancer Foundation
Palo Alto Chinese School
River of Life Church Foundation
Santa Clara County Behavioral Health Services
Santa Clara County Diabetes Prevention Initiative
Senior Taiwanese Association of Northern California
The Joy Culture Foundation
Women's Workshop Bay Area
Volunteer or Donate: Help Make a Difference
CHI is able to serve the community because of the generosity of our volunteers. If you're interested in becoming a CHI volunteer, please fill out the online form or call us at 650-988-3234. Members of the community as well as clinical staff are welcome to join.
Chinese Health Initiative is mainly funded by the El Camino Healthcare District and El Camino Health community benefit programs, and supplemented by community donation. Your gift will help CHI expand its programs to better meet the health needs of more Chinese residents in our community.
Contact Us
To speak to our Chinese-speaking staff or sign up for email updates on lectures and free screenings, call 650-988-3234 or email us at CHI@elcaminohealth.org.
The Chinese Health Initiative is partially supported by donations to El Camino Health Foundation.
---
You may also be interested in...