Diabetes Prevention Series
Evidence-based and culturally tailored to the Chinese population
請點擊此轉換成中文
For people with prediabetes or early stage diabetes, establishing a healthy lifestyle is the most effective way to prevent or delay the progression of diabetes.  The National Diabetes Prevention Program by the Centers for Disease Control (CDC) has been shown to help reduce the risk of type II diabetes, heart disease and stroke. Outcome data reported an observed weight loss of 5-7% in program participants over a 1-year period, and a 58% reduction in the incidence of diabetes in a pre-diabetic study for participants who received education on lifestyle modification, nearly double the rate compared to participants who took metformin over a 3-year period.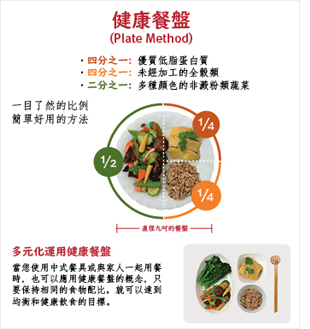 Our two-part Diabetes Prevention Series is based on the CDC's proven model that emphasizes lifestyle changes to diet, exercise, mindfulness, and sleep. The program is also culturally and linguistically tailored to the dietary and health needs of the Chinese population.
1. Diabetes Fundamentals
4 classes that focus on basics about diabetes, taught by a Certified Diabetes Care and Education Specialist.
If you do not know your diabetes risk, we suggest that you complete a simple questionnaire.
The course covers:
Diabetes pathology, diagnosis, symptoms, factors and complications
Insulin resistance, modifiable/non-modifiable risk factors
Scientifically proven methods to effectively prevent diabetes
BMI, waist circumference, blood pressure
What to do if you have diabetes
2. Healthy Habits, Healthy Life Program
11 classes that help build healthy lifestyle through diet, exercise, sleep and stress reduction. Conducted by registered dietitians, strength trainer, qigong instructor, clinical psychologist.
It is suitable for people at high risk of diabetes, and also for those who want to build a healthy lifestyle and improve their overall health.
All the classes are free of charge and will be held virtually. If you would like to help sponsor this program so that more people can benefit, please click here to donate.
Date: 8/5/22 – 12/2/22 (No class: 8/12, 9/2, 11/25)
Time: Fri; 9 a.m. - 10:30 a.m (subject to change)
►►►Register Now
Please note: You will receive separate Zoom links for each Healthy Habits, Healthy Life module by email.
---
Healthy Habits, Healthy Life Schedule
If not attending the Diabetes Prevention Series, participants can sign up for each session separately.
Schedule subject to change
Diet
Nutrition 1 
Nutrition 2
Nutrition 3
Grocery Tour
Conducted in Mandarin
Date: 8/19, 8/26, 9/9, 9/16
Time: Fri, 9 a.m. -10:30 a.m.
►►►Register Now
Exercise
How to Exercise Effectively
Qigong
Strength Training with a Trainer
Dates: TBA
Sleep and Stress-Reduction
Stress-Reduction
Introduction to Mindfulness
Introduction to Meditation
Sleep
Dates: TBA
Time: TBA
---
Request information about Diabetes Prevention Series
If you are interested in learning more or wonder if the program is a good fit for you, please contact us. Call today 650-988-3234.
---