Congratulations, it's time to deliver your baby! El Camino Health is excited to be part of this special day.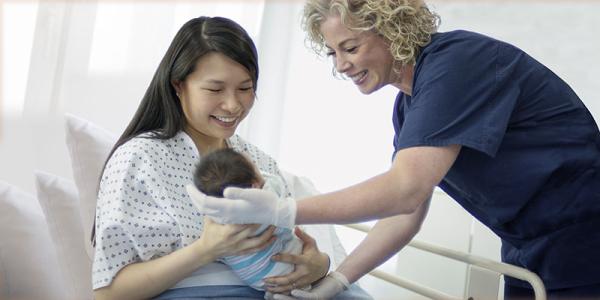 請點擊此轉換成中文
Talk to your doctor and obstetrician about when to head to the hospital for labor and delivery. Most women should plan to leave when contractions begin to get longer, stronger and closer together.
Getting to the Hospital
Mountain View
Labor & Delivery is on the first floor of the Orchard Pavilion, which is also home to our mother-baby units. The Obstetrics Emergency Department is also located on the first floor. Take the elevator up. Entry to the unit is across the hall. If headed to Labor & Delivery, please go directly there and do not go to the ER, as this will delay your admission to the Women's Hospital.
Wheelchairs are accessible in the lobby of Orchard Pavilion. Security and screener personnel are available 24/7 in the Orchard Pavilion lobby. They can help direct you and will ensure you are well and have a visitor badge.
Expansion of Women's Hospital
An exciting expansion of the Women's Hospital on our Mountain View campus is currently underway. While this expansion will better serve our patients in the future by offering more rooms and expanded services, we are currently experiencing construction noise and disruption near some of our patient areas.
Construction is expected to take place on weekdays between 7 a.m. and 4 p.m., and you may experience additional noise and discomfort during your stay with us. We're doing everything we can to limit the disruption to our patients and their loved ones and apologize for the inconvenience it may cause.
You may consider packing items that will help to reduce the noise, such as headphones or a sound machine. If you have any questions during your stay, please don't hesitate to ask to speak with the Mother-Baby Unit Manager.
Thank you for your understanding.
Los Gatos
Our birthing wing is in the main hospital. Wheelchairs are accessible in the main lobby of the hospital.
Front Door Entry: 5:30 a.m. – 8 p.m.
ER Entry: 8 p.m. - 5:30 a.m.
Security and screener personnel are available 24/7 in or near the lobby. They can help direct you and will ensure you are well and have a visitor badge.
Once at Labor & Delivery
Check in at the nurse's station in Labor & Delivery. Our nurses will assess your needs and ensure you get the care you need. You may need monitoring or admission to antepartum or to Labor & Delivery.
Comfort and Care During Labor
All our labor rooms are private, spacious, have large windows and private bathrooms, and have sleep accommodations for your partner or support person.
Relaxing Tubs
You may labor in a warm tub if your membranes are not ruptured. Los Gatos has a designated relaxing tub room with a hospital-grade jetted tub. The jets are individually removable and cleanable, with no internal piping. In Mountain View, 10 of 12 labor rooms have tubs in the bathroom that can be used for labor.
Labor Support Equipment
Our wireless monitoring systems provide 24/7 central monitoring so you can walk and have freedom of movement during labor. Labor support birthing balls, peanut balls, squat bars and other labor support tools are kept in closets in each room.
Pain Relief
We offer many options for pain relief, including:
24/7 epidural availability
Nitrous oxide
Full range of pain medications
Natural birth coaching and interventions
Support for acupressure, acupuncture, transcutaneous electrical nerve stimulation (TENS) and hypnobirthing – please bring your desired equipment
Your Team
Our labor and delivery support staff are available 24/7 to help keep your labor progressing safely and as comfortably as possible. Your team will include:
An OB/GYN and/or certified nurse-midwife depending on your selected provider
An anesthesiologist for pain control
A labor and delivery nurse focused on you, the mother
A labor and delivery nurse focused on the baby at birth
Maternal-fetal medicine specialists on call 24/7
Neonatal intensive care team available 24/7
Recovery and Bonding
The time immediately after birth is important for mom and baby. We encourage you to hold your newborn skin-to-skin soon after birth and will help you to do so, even if you need a C-section.
All our mother-baby registered nurses (RNs) have received lactation training and are ready to give breastfeeding support right away, with the first feeding as soon as baby is ready. You and your baby will be fully assessed before and after all transfers of care, including to the mother-baby unit.
When you're ready, you'll move out of Labor & Delivery to more fully recover and bond with your baby in the mother-baby unit. All the rooms in this unit are private, with private bathrooms and large windows for natural light. We have safety and security measures in place so you can rest easy.
Meal Options
Our diverse menu can accommodate gluten-free, vegetarian/vegan, lactose intolerance and diabetic diets. Please let your care team know about your dietary restrictions upon admission.
Once here you may choose to either:
Order from our kitchens. Our menu has a wide array of food choices (e.g. South Asian, Chinese)
Order food via meal delivery service such as DoorDash.
Your care team will be able to provide hot and cold water as requested, and of course we have complimentary healthy and delicious snacks available at all times.
Preparing to Go Home
We offer expert help to get you and your baby ready to go home. We'll work with you to create a personalized timeline and process for your care getting ready for discharge, and keep you informed at each step.
Inpatient Lactation Support
Breastfeeding your baby is natural, but it takes practice. All our maternity nurses are trained in lactation support and will help you get started. We also have expert lactation consultants — registered nurses who are International Board Certified Lactation Consultants (IBCLCs) — to provide an extra level of support. To request to see a lactation consultant, just ask your nurse.
Immunization and Newborn Screening
During your hospital stay, we'll provide your baby's first immunization and the hepatitis B vaccine. Your doctor will talk to you about your child's future immunizations. As part of El Camino Health's participation in statewide newborn screening programs, your baby will be tested for a number of disorders, including:
Congenital heart disease
Metabolic diseases, which affect the body's ability to use certain nutrients for growth, energy and repair
Endocrine diseases, which cause the body to create too much or not enough of certain hormones
Hemoglobin diseases, which affect red blood cells and these cells' ability to carry oxygen throughout the body
Hearing problems
Help With Your Baby's Paperwork
Birth certificates: Our birth recorder will visit you to gather information for your baby's birth certificate. The birth recorder will submit the information to the county and explain how you can order copies for your records. For more information visit Santa Clara County Public Health Department, Vital Records and Registration.
Social Security numbers: El Camino Health will also help you begin the process to apply for your baby's social security number. The number should be mailed to you within eight weeks. For questions, call the U.S. Social Security Administration at 800-772-1213.
For more information about obtaining your baby's birth certificate and social security number, visit the Birth Registration FAQ.
Newborn Photography
First Day photographers are on site and available to take your first professional photographs. Please call or text First Day Photo at 800-770-1926 for more information and how to schedule a photo session.
Maternity Boutiques
As a new mother, you'll need a few important items for yourself and your new baby. At El Camino Health, we make it easy and convenient for you through maternity boutiques at our hospitals. We offer items and services such as hospital-grade breast pump rentals, customized bra fittings and newborn essentials.
At the Mountain View campus, you can also order by phone, at 650-988-8287, and pick up the items.
At the Los Gatos campus, you can also order by phone, at 408-866-3801, and pick up the items.