Foundation
El Camino Hospital Foundation partners with you to advance healthcare through philanthropy. 

We work with grateful patients and families, doctors, nurses, employees and community leaders to raise money to meet the health needs of the communities served by our Mountain View and Los Gatos campuses.
These funds enable El Camino Health to provide an exceptional level of care — care that's not always covered by fees and reimbursements. Whether it's raising funds for new technology or innovative programs that meet emerging needs, the Foundation is dedicated to advancing health in our community. In addition, philanthropic support allows the hospital to create an atmosphere of advancement and learning for doctors, nurses and staff, and offers fulfilling opportunities for donors and volunteers — all of which enhance patient care.
Whether you support us with a charitable gift or participate in one of our events, your generosity makes a difference in the health, well-being and vitality of so many.
Support Our Strategic Fundraising Initiatives
By making a gift to the Foundation, you can be a partner and help fulfill critical needs at El Camino Health. Current initiatives focus on new work in cancer care, mental health services and heart disease prevention.
Fulfilling the Promise: Mental Health and Addiction Services

Watch this video of a grateful mother
A quarter of all adults and a fifth of teens age 13 to 18 experience a serious mental health condition in a given year. But, despite the significant need for treatment services, there aren't enough resources for people to get the help they need in our community. El Camino Health is reaffirming its commitment to provide expert, compassionate mental healthcare. Your gift can help build a new 56,000-square-foot inpatient facility on the Mountain View campus and support the expansion of specialty outpatient treatment programs for youth and young adults, older adults, women and people with addictions. With your help, we can give more members of our community a better chance to achieve their promise, as we fulfill ours. For more information, please send us an email or call us at 650-988-7849.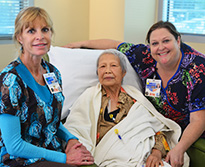 Cancer Care
One of every 2 Americans will be touched by cancer in their lifetimes. All of us have a colleague, friend, neighbor or loved one who has faced this difficult disease. Donations help El Camino Health provide the level of care typically found at academic medical centers, delivered with the compassionate, personalized approach you expect from a community hospital. To learn about naming opportunities at the Cancer Center and other ways you can advance cancer care at El Camino Health, please send us an email or call us at 650-940-7154.

South Asian Heart Center
People of South Asian descent have a higher risk of heart disease and diabetes compared with the general population — two to four times higher. Conventional medical practice doesn't take into account their special risk factors. The South Asian Heart Center's proven and culturally tailored program includes advanced screening to uncover the hidden risks and lifestyle counseling to mitigate them through meditation, exercise, diet and sleep. Your donation will help the center expand so it can serve more people. For more information, please send us an email or call us at 650-940-7154.

Chinese Health Initiative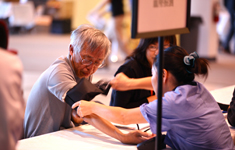 Chinese Health Initiative at El Camino Health is the leading culturally-sensitive health resource for the Chinese community in Silicon Valley. El Camino Hospital established the Chinese Health Initiative in 2010 to better serve this population's distinct health care needs. In collaboration with Chinese professional, community, and health care organizations, the Chinese Health Initiative conducts free screenings for and educational programs about hepatitis B, liver cancer, hypertension, stroke, diabetes and other diseases that are taking a disproportionate toll on the community. The Chinese Health Initiative is ready to grow along with the community it serves, but it needs your philanthropic partnership in order to do so.
「華人健康促進計畫」是北加州唯一在主流醫院中設立,專門服務華人的部門 ,以促進華人的身心健康為宗旨,為矽谷(硅谷)華人社區提供適合其語言文化需求的健康醫療資源。我們針對華人高發病B型 (乙型 ) 肝炎、肝癌、高血壓、中風、糖尿病提供免費的健康篩檢和教育講座,與華裔醫生合作把專業的醫療常識以中文帶進華人社區,增進華人對常見健康問題的認識和預防,並認識美國的醫療系統;我們開辦保健氣功課和中醫講座,把中國傳統的保健方法融入現代人生活;並在醫院內與各部門合作,為華人提供適合其語言和文化習慣的服務。感謝您對我們的支持,幫助我們把健康帶進華人社區!