Sodium Content of Chinese Sauces
Learn more about the amount of sodium in the sauces that you cook with every day.
Skip
請點擊此轉換成中文
Click to download these tips.
The Dietary Guidelines for Americans recommend that everyone should consume less than 2,300 milligrams (mg) of sodium each day, about 1 teaspoon of table salt. People with hypertension should eat less than 1,500mg of sodium per day.
A lot of Chinese sauces and dressings are high in sodium. The table below lists the common Chinese sauces and dressings with high sodium. Try to use as little as possible or substitute with herbs and spices that can add flavor to your dish, such as garlic, ginger, green onion, vinegar, lemon juice, lemongrass, zedoary (sand ginger) powder, five spice powder, Sichuan pepper, star anise and basil.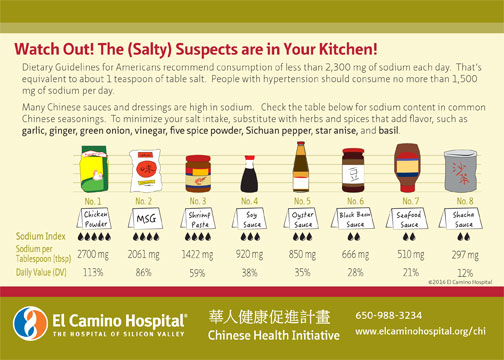 Watch out! Your kitchen is filled with high-sodium sauces and seasonings. This downloadable chart will help you to determine which suspects to stay away from. (Click
here
for a larger version).
| Sauce / Condiment | Portion | Sodium (mg) | (%DV) |
| --- | --- | --- | --- |
| Baking Soda | 1 tablespoon | 3773 | 156% |
| Chicken Powder | 1 tablespoon | 2700 | 113% |
| MSG | 1 tablespoon | 2061 | 86% |
| Fish Sauce | 1 tablespoon | 1422 | 59% |
| Shrimp Paste | 1 tablespoon | 1413 | 59% |
| Broad bean Paste (Doubanjiang) | 1 tablespoon | 1170 | 49% |
| Chu Hou Sauce | 1 tablespoon | 939 | 39% |
| Soy Sauce | 1 tablespoon | 920 | 38% |
| Oyster Sauce | 1 tablespoon | 850 | 35% |
| Black Bean Sauce | 1 tablespoon | 666 | 28% |
| Seafood Sauce | 1 tablespoon | 510 | 21% |
| Chinese BBQ Sauce | 1 tablespoon | 360 | 15% |
| Shacha Sauce | 1 tablespoon | 297 | 12% |
| XO Sauce | 1 tablespoon | 270 | 11% |