About the Foundation
There are always exciting things happening at El Camino Health Foundation, from fundraising initiatives and special events to major gift announcements. We are pleased to share the latest news.
Foundation News
Orchard Pavilion Renovation: A New Vision for Mother, Baby, and Family Care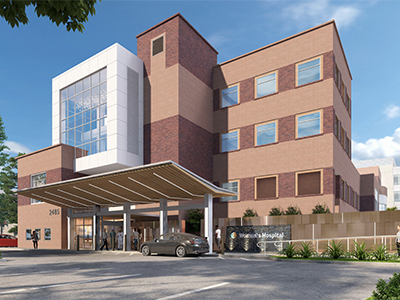 The $149 million expansion and remodel of the Orchard Pavilion (formerly known as the Women's Hospital) broke ground on April 1. The three-phase project is scheduled for completion in 2024. When it is finished, our Mountain View hospital will have the capacity to serve more patients in a private room environment that promotes healing and wellness for women, infants, and families in our community.
The neonatal intensive care unit (NICU), which currently has three six-bed wards and two private isolation rooms, is moving from the first floor to the second, and it will be 91 percent larger. Designed for family-integrated care, it will have 19 spacious private rooms and a five- bed pod. Parents will have comfortable facilities, including dedicated bathrooms with showers, lounge and respite areas, convenient access to a bistro, and milk refrigerators – amenities that will enable them to stay comfortable and close, and enhance vital early bonding, growth, and development.
Currently, the Orchard Pavilion has 44 licensed postpartum beds on the first floor and the primarily dual occupancy mother-baby rooms are small and cramped. After renovation, there will be 52 licensed beds in 52 large, private rooms divided between the first and third floors, with nurseries located nearby. The labor and delivery unit will remain on the first floor but will expand significantly with the addition of eight rooms. Five of them will be part of a new antepartum unit for women with high-risk pregnancies who need monitoring or bed rest before their due dates. There will also be a flexibly-configured eight- bed preparation and recovery area for Caesarean section or other surgeries.
A café with indoor and outdoor seating areas, small gift shop, and security station will be located on the ground floor. There will be new lobbies on the first and second floors, and an airy, light-filled mezzanine on the third floor. In addition, the building exterior will be refreshed and there will be many infrastructure upgrades.
"This will be a big expansion in terms of how many women we can serve," says Heather Freeman, Senior Director, Maternal Child Health Service Line. "Every room will have better capability and comfort for our patients." In fact, El Camino Health is projected to become the largest provider of childbirth services in the area.