About the Foundation
There are always exciting things happening at El Camino Hospital Foundation, from fundraising initiatives and special events to major gift announcements. We are pleased to share the latest news.
Foundation News
John and Susan Sobrato Name Medical Pavilion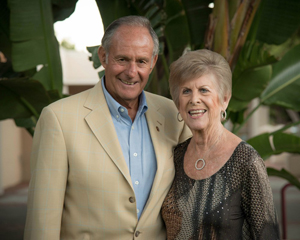 Silicon Valley real estate developer John Sobrato and his wife Susan have made a $5 million gift to name the integrated medical office building currently under construction on the Mountain View campus. The 7-story, 257,792 square foot Sobrato Pavilion will be El Camino Hospital's first high rise building and will house the Norma Melchor Heart & Vascular Institute, Peter C. Fung, MD Stroke Center, Taft Center for Clinical Research, Breast Health Center, and outpatient laboratory. Endoscopy, respiratory care, and other hospital services will be located there as well. The top floors are reserved for tenant physician offices, which will free up space for the expansion of the Women's Hospital.
"I hope that by investing in this exciting advancement in the hospital's infrastructure that we are contributing to making Silicon Valley a center for top quality health care, where all residents have equal access to the knowledge, tools, and supports they need to lead healthy lives," John Sobrato told us. "We believe that by sharing our philanthropy, we lead by example. When people see the Sobrato name on this building, I hope they will see themselves and their own potential to make contributions like these, to recognize that their contributions can make a huge difference. The needs in our community will never be met by one donor or one family, but together we can build a more inclusive and truly prosperous Silicon Valley."
Scrivner Center for Mental Health & Addiction Services in the Taube Pavilion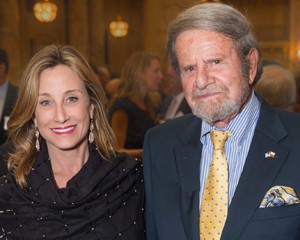 In January and February, the Foundation received two transformational gifts to fulfill the promise. Tad and Dianne Taube established the Tad and Dianne Taube Program for Adolescent Behavioral Health, which will help to underwrite direct care services for youth and young adults. Understanding that success in medical outcomes, as in philanthropy, is most powerful through collaboration, they hope the new program will facilitate partnership between El Camino Hospital's specialists and colleagues at Stanford University School of Medicine, Lucile Packard Children's Hospital, and other local organizations to strengthen adolescent mental health and addictive behavior services in the community. In recognition of their generosity, the new mental health building will be called the Taube Pavilion.
"Dianne and I see that young people today are facing a new world of challenges. We want to educate families and raise awareness about the risks and signs of mental health issues in children and adolescents. It can make an all-important difference in their lives," Tad Taube says.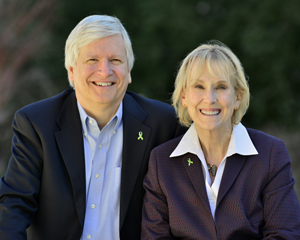 Mary and Doug Scrivner named the Scrivner Center for Mental Health & Addiction Services, the umbrella under which all of El Camino Hospital's mental health and addiction programs will be identified. Their gift is being added to the After-School Program Interventions and Resiliency Education® (ASPIRE) endowment they launched with a challenge gift in 2015. The Mary and Doug Scrivner Endowment for Adolescent Mental Health Innovation will support the continued development of pioneering programs that meet the emerging mental health needs of youth and young adults. This includes ASPIRE's expansion, community outreach, research, pilot programs, creation of technology tools and applications, parent support and education, public policy and advocacy, and similar innovations.
"This gift is a vote of confidence in El Camino Hospital's extraordinary commitment to focusing on the needs of the community it serves. Mental health issues are at the heart of so many of our community's – indeed our nation's – challenges, especially those facing our youth," Doug says. "We hope others will share our passion and support these efforts," adds Mary.
Julia and Peter Fung, MD Name the Stroke Center at El Camino Hospital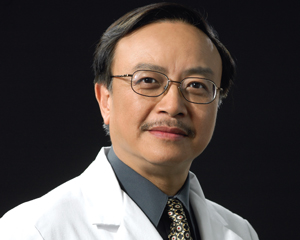 Julia and Dr. Peter Fung have made a leadership gift to name the Peter C. Fung, MD Stroke Center and endow it in perpetuity. Dr. Fung was the medical director of El Camino Hospital's stroke program from 2005 to 2015 and he remains passionate about it.
That passion was ignited in 1994, when his 70-year-old mother had the first of a series of strokes. "What followed was a jumble of driving to different hospitals, taking different medications, and undergoing different procedures," he recalls. Along the way he learned about the long neglected but then rapidly developing discipline of stroke care. He read every article and attended every conference he could as new, evidence-based guidelines for stroke treatment were being established. By the time he came to El Camino Hospital in 2004, he was determined to establish a better system. As medical director he turned the program from one that barely passed Joint Commission certification to one that consistently does so with the highest accolades. The stroke program earned the Joint Commission's Gold Seal of Approval and the Gold Plus Achievement award from the American Heart Association, and El Camino Hospital became recognized as one of the top 5% of hospitals nationwide for stroke care.
The transition took passion, vision, tenacity, innovation and teamwork. Dr. Fung implemented weekly multidisciplinary stroke rounds, which were attended by all the patient's care providers, so the full team could collaborate to come up with the best care plan. He instituted weekly nursing rounds and took regular night and weekend shifts to ensure consistent excellent care, 24 hours a day, seven days a week. He wrote regular scholarly articles in a column he dubbed "Stroke Front" for the hospital's physician newsletter, hosted monthly stroke talks, and invited national experts to speak at quarterly stroke dinners. "I encouraged people to become champions of stroke care," he says.
Today, he is happy and proud to make this donation. "It is my greatest wish that this gift will help stroke care continue to improve. I hope in the near future El Camino Hospital will become a Joint Commission certified Comprehensive Stroke Center so no patient ever needs to be transferred to another medical center for a 'higher' level of care," (less than 1% of cases).
"This is the first time we have made such a significant gift," Julia says. "I am so happy we can do this and never imagined how happy I would feel giving."
Make a donation, send us an email, or call us at 650-940-7154.