About the Foundation
There are always exciting things happening at El Camino Health Foundation, from fundraising initiatives and special events to major gift announcements. We are pleased to share the latest news.
Foundation News
Spring Forward Gala Raises Funds for Addiction Services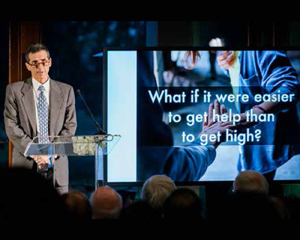 On Saturday, May 18, friends and supporters of El Camino Health gathered at Los Altos Golf & Country Club for Spring Forward, a gala benefit celebrating the Scrivner Center for Mental Health & Addiction Services and soon-to-open Taube Pavilion. Honorary Chairs Tad and Dianne Taube of Belmont and Mary and Doug Scrivner of Los Altos Hills were recognized for their transformational gifts. The event raised nearly $160,000 for the addiction services program. Guests dined at gourmet food stations, heard a riveting presentation by addiction medicine expert Dr. Omar Manejwala, and gave generously to the fund-in-need appeal.
"Although many health systems are letting go of addiction services, we want to make it clear to our community that we are in the business of treating addictions," Dr. Daniel F. Becker, chief medical director of the Scrivner Center for Mental Health & Addiction Services, told the audience. The organization currently offers a 12-week intensive outpatient treatment program for adults with addictions and a dual diagnosis program for adults with an addiction and co-occurring mental health condition. In coming months, he and his team will focus on an approach to inpatient detox, extend outpatient treatment engagement to one full year to improve chances for maintaining abstinence, and explore collaborations with other community health organizations to address addictive behaviors in youth.
A Los Altos couple heartbreakingly described their son's dependence on alcohol and their struggles to find effective treatment. "As a parent, you start to ask yourself, should you let your child go – even if it results in homelessness or jail – or do you try yet another treatment center hoping this time it may work," they said. "We are deeply grateful to our community hospital and proud that it has stepped up to provide industry-leading mental health and addiction services, despite the financial challenges of doing so." The couple received a standing ovation.
Michael Fitzgerald, MS, APRN, executive director of the Scrivner Center for Mental Health & Addiction Services, closed the formal program by describing what distinguishes El Camino Health's approach. "We develop targeted programs that meet observed needs in the community. We group patients by need instead of lumping them together regardless of their condition. We help our patients develop skills for managing stress and regulating their emotions. We provide supportive programs for family members and after-care follow-up to ensure ongoing mental wellness. Our staff is multidisciplinary and highly trained. We can provide these high quality services and pioneer more effective models of care without turning anyone away, even when insurance reimbursement lags behind, because of your support. And soon we will be able to do so in a state-of-the-art new building. From the bottom of our hearts we thank you."
The evening concluded with dessert and dancing to the upbeat music of Tony Lindsay and the Soul Soldiers.
Addiction: A Futurist's Perspective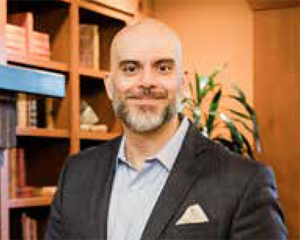 Dr. Omar Manejwala, one of the nation's leading experts on addiction medicine, substance use disorders and mental illness, gave a futurist's perspective on addiction at Spring Forward on May 18.
"The world is getting better," he asserted, citing climbing life expectancy and declining infant mortality around the world, and falling death rates in the United States and comparable countries for cancer, heart and vascular disease, even motor vehicle deaths. What made a difference was implementing systemic changes, like seat belt laws and speed limits, that encourage healthier behavior.
"One group is clearly left behind," he continued. Addiction remains the most stigmatized condition in the world and that prevents people from getting the care that could help them. Only one in 10 people who need help receive it. Opioids are killing more people than car crashes. More than 90,000 people a year are dying from alcohol use disorders.
Yet, addiction "is both treatable and preventable," Dr. Manejwala explained. We need to implement systemic changes that will make it easier for people to do the healthy thing and receive the care they need. This includes creating more integrated systems of care, harnessing new technologies like mobile phones to give people easier access to treatment around the clock, using strategies like gamification to spur healthier decisions, utilizing personal data to encourage healthy behaviors, harnessing the potential of biotechnologies such as gene editing and developing pharmaceuticals that reduce cravings, erasing the stigma, and addressing social determinants of health such as neonatal care, trauma, bullying, social defeat, isolation and loneliness.
He concluded by asking the audience to focus on one simple question: what if it were easier to get help than it is to get high?