About the Foundation
There are always exciting things happening at El Camino Health Foundation, from fundraising initiatives and special events to major gift announcements. We are pleased to share the latest news.
Foundation News
A Promise Fulfilled: Taube Pavilion Celebration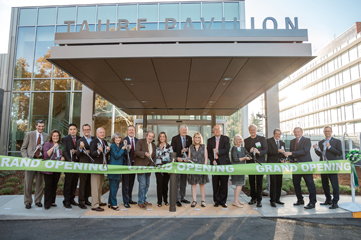 Donors to El Camino Health Foundation's Fulfilling the Promise fundraising initiative celebrated the Taube Pavilion and Scrivner Center for Mental Health & Addiction Services during grand opening festivities on Thursday, October 24.
"This is truly a historic day as we bring treatment of mental health and addiction conditions into the light with this beautifully constructed building designed and built to promote a safe healing environment," said El Camino Health CEO Dan Woods as he opened the formal program. He recognized the El Camino Healthcare District and El Camino Hospital Boards of Directors for their commitment to the project and applauded the Foundation's Philanthropy Council, calling out Chairs Donna and John Shoemaker for their leadership of the fundraising effort.
Tad Taube, who with his wife Dianne made a gift to establish the Tad and Dianne Taube Program for Adolescent Behavioral Health, spoke about the couple's concern for the overall wellbeing, education, and mental health of young people, and their goal of facilitating collaboration between researchers and philanthropists to address these challenges. "We believe that El Camino Hospital is demonstrating its leadership in adolescent mental health treatment and prevention and in so doing has become an important collaborative partner for our philanthropy's commitment to youngsters in the Bay Area and beyond," he said. "Dianne and I are grateful for the opportunity to support an incredible hospital like El Camino. We are extraordinarily proud of this beautiful new pavilion.
"The Taube Pavilion, which is centrally sited on El Camino Health's Mountain View campus, will be the location for the Scrivner Center's adult inpatient and outpatient mental health programs and adult outpatient addiction program.
"These services address some of the most urgent and intractable problems facing our community and our nation," said Doug Scrivner, who with his wife Mary established the Mary and Doug Scrivner Endowment for Adolescent Mental Health Innovation. "Our gift is an expression of our confidence in El Camino and our faith in our young people and hope for their future, and is an investment in our community." Mary added, "Thanks to all who gave to this effort ... and let's all of us acknowledge that we can come together as a community. Today is a day of gratitude and celebration for El Camino Health."
The Shoemakers, Taubes and Scrivners joined CEO Dan Woods, El Camino Health Foundation President Andrew Cope, district, hospital and foundation board members, mental health and addiction services leadership, and public officials for the formal ribbon cutting. Then the doors to the building opened and donors got their first look at the light, airy, art-filled, 56,000 square foot space. Docents led tours highlighting the subtle safety features, flexible configuration, private patient rooms, and specialty women's unit on the first floor, noting the open nurses' stations, inviting courtyards, and group spaces designed to facilitate conversation and engagement. The donors also toured the second floor, where the focus turned to the outpatient programs, which include addiction services, dual diagnosis, adult mood, continuing care, and older adult transition services.
Physicians, employees, representatives from partner organizations, public officials, and community residents were invited to open houses for the Taube Pavilion on the following two days. The building is scheduled to open for patient care in early January.
"We have been talking for five years or so about fulfilling the promise," Doug Scrivner said. "Today, I think we can say, 'Promise fulfilled!' although we still have much, much more to do."
Sobrato Pavilion Celebration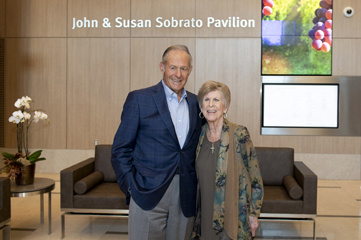 El Camino Health celebrated the ribbon cutting for the Sobrato Pavilion on Sunday, November 17. The seven-story, 257,792 square-foot integrated medical office building is the first high-rise structure on the Mountain View campus. It will house the Taft Center for Clinical Research, Norma Melchor Heart & Vascular Institute, Peter C. Fung, MD Stroke Center, Advanced Care & Diagnostic Center (Women's Heart and Wellness Center, Cardio-Oncology Center, Secondary Stroke Prevention Center, Transient Ischemic Attack (TIA) Center, and diagnostic imaging services), Breast Health Center, advanced respiratory care services, the Fogarty Institute for Innovation, endoscopy, outpatient laboratory, and physician offices.
John and Sue Sobrato, their family and friends, and major donors who named programs in the building gathered for a private lunch in the board room on the pavilion's ground floor. El Camino Health Foundation President Andrew Cope toasted the couple and El Camino Hospital Board Secretary Julia Miller presented them with an original work of art representing the many Bay Area organizations the Sobrato family has supported with buildings that bear their name.
At 1 p.m. community members gathered outside the main entrance for the formal program and ribbon cutting. "The Sobrato Pavilion represents a bright future for El Camino Health – one that includes a center of advanced medicine," CEO Dan Woods told the crowd, as he described the leading-edge outpatient programs it will house.
Julia Miller introduced the main honoree. "When John Sobrato recognizes a need he takes action," she said, noting "he has earned the number one spot for charitable giving for seven years by the Silicon Valley Business Journal."
Sobrato spoke about his family's commitment to provide opportunity to more local residents through philanthropic support for social service agencies, educational facilities, and hospitals. "By supporting the development of El Camino Health's Mountain View campus, we are helping this hospital provide outstanding medical services to the residents of Silicon Valley, which in turn will help to build a healthier community for the long term. Sue and I are grateful to have been given the opportunity to provide the cornerstone gift for this wonderful new facility and we hope to encourage others in our community to fully support this wonderful institution."
John and Sue Sobrato, Pamela and Ed Taft, Dr. Peter Fung, Dr. Thomas Fogarty, El Camino Hospital board members Gary Kalbach, Julia Miller and John Zoglin, Mountain View Mayor Lisa Matichak, and CEO Dan Woods cut the ribbon with a flourish. Then the crowd streamed into the impressive building for self-guided tours.