Tomosynthesis is the latest mammogram technology, which offers a more accurate way to detect breast cancer.
Skip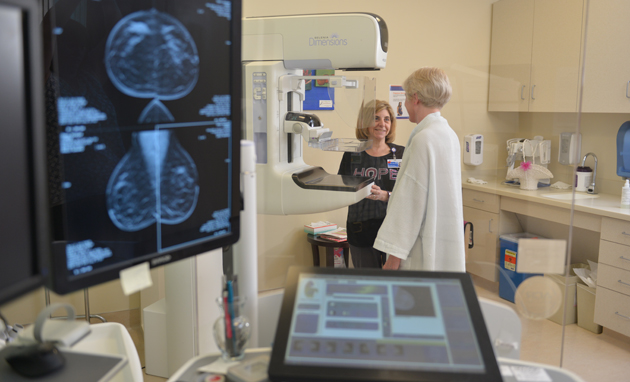 What is tomosynthesis (3-D mammography)?
Digital tomosynthesis is a type of mammogram that creates a 3-D picture of the breast using X-rays and computer technology. Research shows this method allows doctors to screen for breast cancer with much greater accuracy.
How is a 3-D mammogram different from a conventional (2-D) mammogram?
A 2-D mammogram usually takes two X-rays of each breast from different angles: top to bottom and side to side. A 3-D mammogram takes multiple X-ray pictures of each breast from many angles, and a computer assembles the pictures into high-resolution 3-D images.
When a radiologist views a 2-D image, there can be a significant amount of overlapping tissue, which can make it difficult to see an abnormality. Tomosynthesis allows radiologists to examine the tissue layer by layer. This makes details more visible and less likely to be hidden by overlapping tissue. The greater detail also reduces the likelihood that normal overlapping tissue is mistaken for an abnormality — which avoids unnecessary further testing and worry.
Who should get a 3-D mammogram?
All women, regardless of age or breast tissue density, can benefit from receiving a 3-D mammogram. That's why El Camino Health offers you a choice between conventional or 3-D exams for your annual screening mammogram. If you choose tomosynthesis, you don't need a special referral.
Talk to your insurance provider to find out about your coverage.
What are the benefits of a 3-D mammogram?
Tomosynthesis provides greater detail, which allows doctors to detect breast cancer sooner and more accurately. And, greater detail of 3-D images means there are fewer instances of false positives (when a breast image shows an abnormality that turns out to be normal tissue).
Does a 3-D mammogram feel different from a conventional mammogram?
The process for 2-D and 3-D mammograms is the same. A 3-D mammogram doesn't require additional compression of the breasts, and the procedure takes only a few seconds longer for each image.
What about radiation?
Just like a conventional mammogram, a 3-D mammogram uses very low X-ray energy. The level of radiation for conventional and 3-D mammograms is about the same.
What type of mammogram technology does El Camino Health use?
We perform Genius™ 3D MAMMOGRAPHY™ exams using the Hologic Selenia® Dimensions® system with C-View™ technology. This is the same technology used in a landmark study of nearly half a million mammograms, published in the Journal of the American Medical Association.
This technology has been shown to reduce false positives by up to 40 percent and detect 41 percent more invasive breast cancers — cancer that grows into healthy tissues; noninvasive cancers remain in the milk ducts or glands.
Can you help me transfer my previous mammogram records if I schedule my annual screening at El Camino Health?
Yes. We'll take care of transferring your records, free of charge.
Where do you offer 3-D mammography?
We offer 3-D mammograms at the Imaging department at our Los Gatos campus and the Women's Imaging Center on our Mountain View campus.
How do I schedule an appointment?
To talk to a breast imaging scheduler, call 650-940-7050 (choose option 2).