The Women's Heart Center at El Camino Health provides complete heart care for women.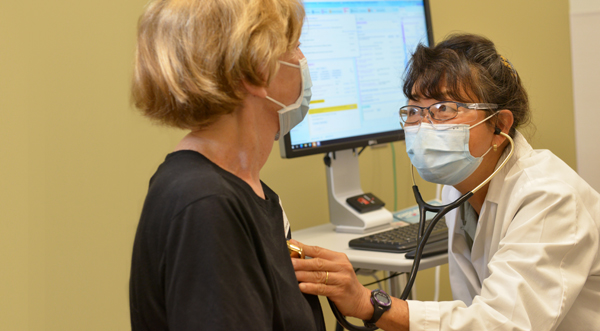 Helping Women and Their Hearts Stay Healthy
Heart disease is the top cause of death for both men and women, but some heart conditions and risk factors affect only women, or are more likely to affect them. Also, women with heart disease may have different symptoms than men, and women may respond differently to medications and other treatments.
That's why the Norma Melchor Heart and Vascular Institute at El Camino Health offers heart care specifically designed for women through the Women's Heart Center. The center delivers preventive care, treatment, and management tailored for women and their needs.
The clinic is staffed with cardiology specialists and other professionals with training and experience in helping women keep their hearts as healthy as possible. You don't need a referral to make an appointment — and we'll work with your current doctor and other healthcare professionals to create a treatment and management plan personalized to your needs and preferences.
We can offer advanced insight and care for women who:
Already have heart disease or are at high risk for it.
Have hypertension (high blood pressure), high cholesterol and blood lipids, or other risk factors.
Have congenital heart defects.
Are pregnant and at risk for pregnancy-related heart conditions or risk factors, such as:

Pregnancy-related hypertension (high blood pressure).
Gestational diabetes.
Peripartum cardiomyopathy (a rare type of heart failure that can happen during pregnancy or just after giving birth).

Have (or are at risk for) heart problems caused by treatment for breast cancer or other cancers affecting women.
Complete Care for Your Heart — and You
The Women's Heart Center offers a multipronged approach to caring for women and their hearts. We use the latest proven treatment options and medical expertise, as well as wellness and preventive care to help you and your heart stay as healthy as possible.
We can help you find ways to reduce your risk through lifestyle changes, such as staying active, eating right, managing stress and getting plenty of rest. We can also help manage any medications or procedures you might need, and we'll work with you and your other healthcare providers to make sure all your needs are met.
If needed, we can draw from all the resources of El Camino Health and also link you with other resources in the community. We often work closely with the South Asian Heart Center, El Camino Health Lifestyle Medicine, and other specialists and professionals.
Virtual Visits and In-person Appointments Available
"We knew telehealth would be important for our patients when we were planning the center, especially with the population we serve," says Jane Lombard, MD, the center's director and a cardiologist specializing in women's heart care and preventative cardiology. Our team will work with you to determine the type of visit that will be most comfortable for you.
El Camino Health has taken multiple steps to provide safe patient care during this time. Find out more.
By following recommended guidelines, the Women's Heart Center can successfully serve its mission — giving women the specialized heart care they need and deserve, in a safe and personalized way.