Maternal Outreach Mood Services
The Maternal Outreach Mood Services (MOMS) Program offers education, counseling and evaluation for expectant and new mothers in a supportive, nurturing environment.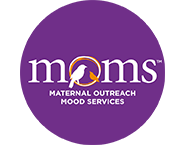 Adjusting to the birth of a baby can be challenging. Getting by on less sleep, learning to breastfeed, helping siblings get used to a new baby — these are all hurdles that many new mothers face.
But for some women, pregnancy and childbirth bring emotional and psychological changes so overwhelming, they just don't feel like themselves. They may be depressed, exhausted and anxious. The MOMS Program is designed to help restore the joy that motherhood can bring.
The MOMS Program is a collaborative effort between maternal health services and the Scrivner Center for Mental Health & Addiction Services. Overseen by a world-renown psychiatrist medical director who specializes in maternal mood disorders, the program's caring staff also includes experienced clinical nurse specialists, marriage and family therapists, and psychiatrists who have expertise in pregnancy and postpartum mood problems.
Women who need more intensive help may be referred to our inpatient women's specialty unit. The unit offers a safe place just for women, with a focus on perinatal health disorders. After discharge, women may be referred to our MOMS Program or one of our other partial hospitalization or intensive outpatient programs as appropriate.
When to Seek Help
The symptoms of prenatal and postpartum depression and anxiety are similar to the signs of non-pregnancy-related depression and anxiety disorders, but they can also include:
Trouble sleeping.
Feeling alone and isolated, or feeling numb or disconnected from your baby.
Having troubling or negative thoughts about your baby or worrying that you'll hurt him or her.
Feeling concerned that you can't be a good mother or ashamed that you're unable to care for your baby.
Support for Expectant and New Moms
Between 10 and 20 percent of women experience prenatal or postpartum depression and anxiety. Many new mothers spend a lot of time home alone with their little ones and may feel especially lonely and isolated. The MOMS Program offers a day treatment program that helps women understand that the depression and anxiety aren't their fault, and that many women struggle with similar emotional changes after the birth of a baby.
The MOMS Program includes individual and group counseling to encourage the development of positive coping skills. The program also includes a partner's group. Medication evaluation is also available.
Some MOMS groups even encourage mothers to bring their babies — who aren't crawling yet — along. Group sessions cover topics that are especially valuable for new mothers, including:
Self-care – Proper sleep, nutrition and exercise.
Stress management – Techniques to help you relax and manage stress.
Setting expectations – Setting realistic expectations of motherhood.
Communicating with family – Tools for handling conflict with your partner and managing your roles as parents, and techniques for communicating with in-laws and relatives.
Mother-baby bonding – Enhancing the mother-baby attachment.
We also offer a variety of classes to help expectant and new mothers prepare for and embrace motherhood.
Maternal Outreach Mood Services are supported by donations to El Camino Health Foundation.