Occupational therapy helps you develop skills to take care of yourself when an illness or injury affects your day-to-day activities.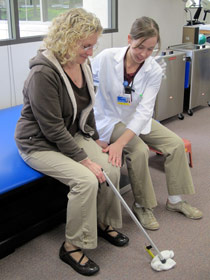 Occupational therapy treatment includes experience with functional tasks to improve coordination, balance, strength, range of motion and cognitive skills. Adaptations for disability are also addressed through compensation training and adaptive equipment training.
Occupational therapists are specially trained to evaluate your needs and develop a personalized plan to help you resume daily activities such as dressing, eating and performing household chores safely. This may include training and exercises to help improve cognitive skills, coordination, balance, strength and range of motion.
Occupational therapy can also help you adapt to any disabilities or limitations — whether it's teaching you how to compensate for a deficiency or helping you learn how to use adaptive equipment, such as a cane, walker or wheelchair. Your therapist provides education, guidance and support to you and your family members.
And, your occupational therapist is also a problem solver — whether it's helping you find new ways to do something you love or offering tips to make everyday tasks easier. He or she helps you continue to do what's most important to you.
Occupational Therapy Services
At El Camino Health, our occupational therapists provide a wide range of services for both inpatient rehabilitation and outpatient therapy, including:
Assistance with daily living activities – Help with home skills such as housekeeping and cooking, as well as personal management tasks such as managing medications, keeping a schedule, or balancing your checkbook.
Manual therapies – Therapies to improve range of motion and relieve pain, including deep heating with paraffin or moist heat, ice, electrical stimulation and myofascial release (applying gentle, sustained pressure to connective tissue).
Individualized home exercises – Specialized exercise plans to improve range of motion, flexibility and strength to allow you to perform everyday activities. Occupational therapists also offer tips for protecting your joints and conserving your energy to improve endurance.
Pre-driving assessments – Comprehensive evaluations to assess your strength, range of motion, coordination, vision, judgment and other skills that are essential to safe driving.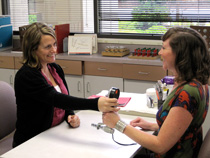 Hand Therapy
Los Gatos Hospital  offers specialized hand therapy services to improve range of motion and strength, as well as prevent injuries, in the hands and arms. Hand therapy services include:
Arthritis treatment, education and prevention of further injury.
Custom splinting and casting.
Mobilization of joints, nerves and tendons using gentle, manual pressure to promote recovery.
Postsurgical rehabilitation of hand, arm and shoulder injuries.