Physical therapy helps you overcome limited mobility and function due to injury, illness, surgery or aging.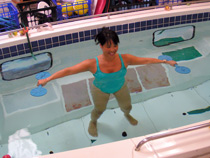 The goal of physical therapy is to maximize individuals' function and comfort, provide emotional/psychological support and educate the patient and their family members in how to continue progress after therapy is completed.
Physical therapists are trained to evaluate your condition and develop a customized therapy program that improves your physical function, range of motion, strength and endurance. Therapists provide manual therapy and assistance, encouragement and education about your condition — including tips on how to prevent future injuries.
Whether you've had a stroke or joint replacement surgery, or you're seeking outpatient therapy to recover from an injury or illness, our licensed physical therapists have the training and expertise to help you regain function.
As you go through rehabilitation, your therapist will provide home exercise and stretching guidelines, as well as recommendations for how to continue progress once you've completed therapy.
Physical Therapy Services
El Camino Health's physical therapists provide a full range of therapies, incorporating advanced training equipment and the latest techniques in physical therapy. Available therapies include: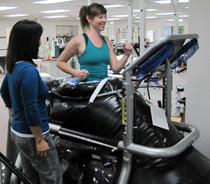 Aquatic therapy (Los Gatos only) – Offers less compression on the joints and gentle resistance to begin building strength and flexibility. The warm-water environment allows those who aren't able to exercise comfortably on land to begin building strength and endurance safely.
AlterG® Anti-Gravity Treadmill® training (Los Gatos only) – A state-of-the-art treadmill that supports and lifts you to minimize the impact on muscles and joints. The degree of unweighting and incline is adjustable, so it can be adapted as you progress. It can help someone recovering from surgery or injury begin walking to build strength and endurance safely. AlterG also allows someone recuperating from a sports injury to begin running and building strength earlier in the recovery process.
Balance and gait training – Therapists assess your body movements and muscular activity as you stand and walk, then develop stretching and strengthening exercises to improve your balance and gait. This is particularly important for those with neurologic disorders such as multiple sclerosis, Parkinson's disease, peripheral neuropathy and stroke. At El Camino Health, we evaluate all patients for gait and balance problems to prevent falls and ensure safety.
Ergonomic training (Los Gatos only) – Instruction on how to implement safe, ergonomic principles at work to prevent injuries, such as carpal tunnel syndrome, bursitis or tendonitis.
Manual therapies – A full range of therapies to improve circulation and range of motion, and address pain, swelling and strength issues. Therapists provide gentle, sustained pressure to joints (joint mobilization) and connective tissue (myofascial release) to promote healing. In addition, El Camino Health's therapists provide decongestive therapy — including manual lymphatic drainage — to treat lymphedema.
Posture and body mechanics training – Education and assistance to develop good posture and mechanics as you stand, walk and lie down. Proper positioning can improve — and even prevent — injuries and muscle strain.
Therapeutic modalities – Including ultrasound, muscle stimulation, TENS (transcutaneous electrical nerve stimulation), moist heat, paraffin heat and ice therapies. Physical therapists use a variety of methods to relieve pain and advance healing.