Speech-language therapy offers care and support for adults who have difficulties with communication, voice or swallowing.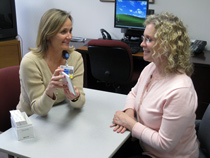 Speech-language pathologists — also called speech therapists — are specially trained to asses, diagnose and prevent and treat disorders related to speech, language, communication, voice, fluency and swallowing.
They help people who can't produce speech sounds correctly or fluently, or have problems with voice or resonance. Speech-language pathologists also help those who have difficulty understanding others or expressing themselves. They also can assist with more complex communication issues such as organizing thoughts, problem solving and memory. Additionally, speech-language pathologists address problems with eating, drinking and swallowing.
In many instances, people with neurologic illness and injury require speech-language therapy as part of their rehabilitation. At El Camino Health, our speech-language pathologists have advanced expertise in working with people affected by stroke, traumatic brain injury, Parkinson's disease, multiple sclerosis and other neurologic conditions.
Speech-Language Therapy Services
Our speech-language pathologists provide personalized inpatient and outpatient services through a full range of therapies, including:
Articulation/oral motor/speech intelligibility – Focuses on enunciation, intonation and other aspects of clear speech to improve speaking ability.
Cognitive-linguistic therapy – Improves organization, reasoning, attention, memory and social skills that affect communication, including nonverbal cues. Cognitive-linguistic disorders often occur in people with neurologic illness or injuries.
Dysphagia/swallowing therapy – Improves swallowing function by increasing muscular strength and coordination, including VitalStim® Therapy — external electrical stimulation that's used during swallowing exercises to further strengthen muscles. Swallowing therapy also focuses on safety strategies to prevent choking or other difficulties.
Voice therapy – Improves vocal quality by reducing strain and strengthening the vocal cords, which affect voice. Voice therapy focuses on proper technique, breath, pitch and other aspects of a healthy voice.
Fluency training – Focuses on eliminating stuttering behaviors.
Pragmatics – Improves understanding of how to use language appropriately in social situations — such as following the rules of conversations and storytelling, or how to adapt communication to a listener or situation.
Lee Silverman Voice Treatment (LSVT) – Improves voice quality and intonation through specialized exercises that focus on improving voice volume (LSVT LOUD® method). LSVT is designed to improve speech difficulties such as a soft or monotone voice, breathiness, hoarseness or poor articulation that can affect those with Parkinson's disease and other neurologic conditions. This therapy is available only at the Los Gatos campus.