The Cardiac & Pulmonary Wellness Center offers specialized programs to increase your respiratory muscle strength and improve the efficiency of your heart and lungs.
Our Acute Pulmonary Rehabilitation Program combines education, medically supervised exercise and support to help you control your symptoms and improve your quality of life. Led by a pulmonologist, the rehabilitation team includes nurses, exercise physiologists, respiratory therapists and a dietitian who work together to create a program that's tailored to each participant's needs and abilities.
Is Pulmonary Rehab Right for You?
Pulmonary rehabilitation is appropriate for adults with lung conditions such as:
Pulmonary rehabilitation is also appropriate for those who've had a lung transplant.
In order to participate, you need a doctor's referral, a recent pulmonary function test and an electrocardiogram (EKG).
Breathe Better, Feel Better
Our eight-week Acute Pulmonary Rehabilitation Program includes education and exercise to help you learn more about your condition and improve your respiratory health. During two sessions a week, you'll interact and exercise with other participants and staff, and learn how to control the symptoms and complications of lung disease.
You'll also learn about:
Breathing retraining and exercises to improve breathing.
Medications and how to use them properly.
Energy-conservation techniques to help you perform activities of daily living.
The importance of physical conditioning and exercise.
Proper nutrition.
Oxygen therapy.
Preventing infections.
How to manage stress and anxiety, as well as relaxation techniques.
Techniques to improve emotional and social well-being.
Maintaining Good Health
For those who need continuing medical supervision upon graduation from the Acute Pulmonary Rehabilitation Program, maintenance exercise classes may be available to you upon medical director approval and referral from your doctor.
In addition, the Cardiac & Pulmonary Wellness Center offers a full range of classes and support groups for those with lung disease. We offer classes that can help you learn about asthma or how to quit smoking — including individual and group smoking-cessation programs — as well as support groups for people living with mycobacterium avium complex (a bacterial infection), bronchiectasis, pulmonary fibrosis and more.
Learn more about the Cardiac & Pulmonary Wellness Center by reading frequently asked questions.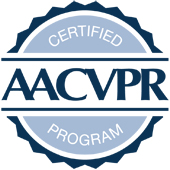 We're recognized by the
American Association of Cardiovascular and Pulmonary Rehabilitation (AACVPR)
for our top-quality care.